Please visit our Asset Store Publisher Page to see a list of our products.
70:30 also offers individual services in the gaming scope as well as in asset creation.
We assure reliable implementation with an affordable pricing scale. If you are interested in one of our services, please do not hesitate to contact us via the Contact Form.
– Individual Skybox Creation
Example
You need the one individual skybox fitting exactly to your Unity game or scene? 70:30 is specialist in creating 100% seamless, well-lighted, beautiful and high quality skyboxes the way you want it – only for your game and no one else.
Prices depend on the configuration and resolution of the skybox images. Higher details (i.e. trees etc.) need more time to configure and higher resolutions and quality settings need more time to render. Please check out our pricing matrix to get a picture.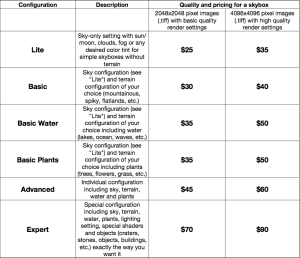 – Game Music Composition – 70:30 on Soundcloud
Composition of individual game music (casual, rock, electro, ambience, classic): 45$ per minute of music
– C# Unity Scripting – creation of small or large game tools and scripts to spare work in developing a Unity game.
Unity scripting service for individual assets, systems and scripts: 50$ per hour of work
For any questions, requests or orders please contact us via the Contact Form or via mail: info@70-30.de