70:30 currently create a new series of HDRi skybox images for games or other 3D projects that support HDRi images. Some of them are already in the Unity Asset Store.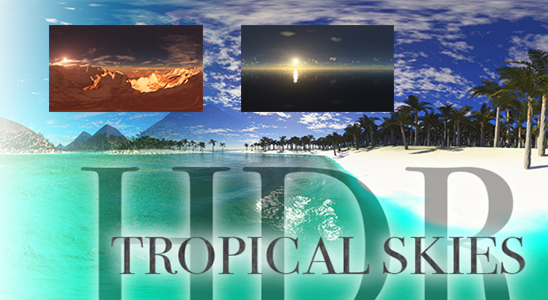 Since Unity 5 you are able to natively use HDR (32 bit floating point) images as cubemaps for skyboxes. Only the use of these HDR images allows you to take full advantage of the Physically Based Shaders, Real-Time Global Illumination and HDR Reflection Probes. Normal .jpg, .png, and .tif Skyboxes will not give you the same results. You need to use a HDR image like these.
The images in the Unity Asset Store are very high quality equirectangular .hdr files specifically calibrated for Unity and attached to cubemap skybox materials – ready to use in your Unity project!
A future update for each skybox will bring the skyboxes without a sun, just using the same lighting setting, in case you want to use your own sun or day-night-system.
Planned packages are:
HDRI Tropical Skies
HDRI Acres Skies
HDRI Desert Skies
HDRI City Skies
HDRI Coast Skies
HDRI Night Skies
HDRI Lava Skies
HDRI Snow Skies
HDRI Forest Skies
HDRI Space Skies
HDRI MountainSkies
HDRI Sunset Skies
HDRI Water Skies
HDRI Cloud Skies
HDRI Fog Skies
They will also be available as Skysane HDRi including all skies together.